These Terms of Service (the "Terms") govern your purchase of the paid features for the Keith Horan services (the "Service") through the Keith Horan website (the "Website"). The Terms set forth your rights and obligations with respect to your purchases, including important limitations and exclusions. Your placement of a payment or deposit on the Website constitutes your agreement that these Terms apply to the order. Please do not place an order if you do not agree to the Terms.
Keith Horan accepts major credit cards and PayPal payments for your online purchases through the Website. Once your purchase is completed online, you will subsequently receive an email confirmation from Keith Horan summarising your purchase. Keith Horan is using PayPal as recipient for the payment. Once you click on the payment button, you will be redirected from Keith Horan's website to PayPal's payment site. You may also decide to pay with a credit or debit card. To do so, choose the option according to your preference. Once you are on PayPal's payment site, Keith Horan is no longer responsible for protecting any personal and financial information that you provide to PayPal. Your PayPal account and any activities/transactions occurred under PayPal's payment site are governed by PayPal's terms and conditions and the information provided to PayPal in relation hereto will be governed by PayPal's Privacy Policy.
The Service may be offered to you on a subscription basis or a onetime license basis pertaining to the licensing model associated with each Service. In either case, your purchase of the Service is prepaid, final and nonrefundable. For the subscription-based Services (e.g. live-course, sessions, events) , there are no refunds or credits for partially used periods and your cancellation of the Service after the expiration date will not entitle you to any refunds or credits. No refunds or credits will be granted to match any promotional offers or price drop.
Other Terms and Conditions
Keith Horan may change any services offered on the Website or the prices for any such services, at any time, with or without notice.
Keith Horan reserves the right to change the terms and conditions of the Terms of Service at any time.
Copyrights and Content Property
Keith Horan own all the content related to the Service and imagery related to Keith Horan Studio and Keith Horan Courses with the exception of few concept images which are property of Freepik (freepik.com) and Unsplash.com and the rights are retains by the authors. Those images are replaced regularly and are not part of the Keith Horan property content.
Date updated: March 22, 2019
Mindfulness practice isn't always easy. Struggles and challenges are all part of the process. Each week I share how my practice is going. I think you will relate…
Subscribe to Keith's Journal: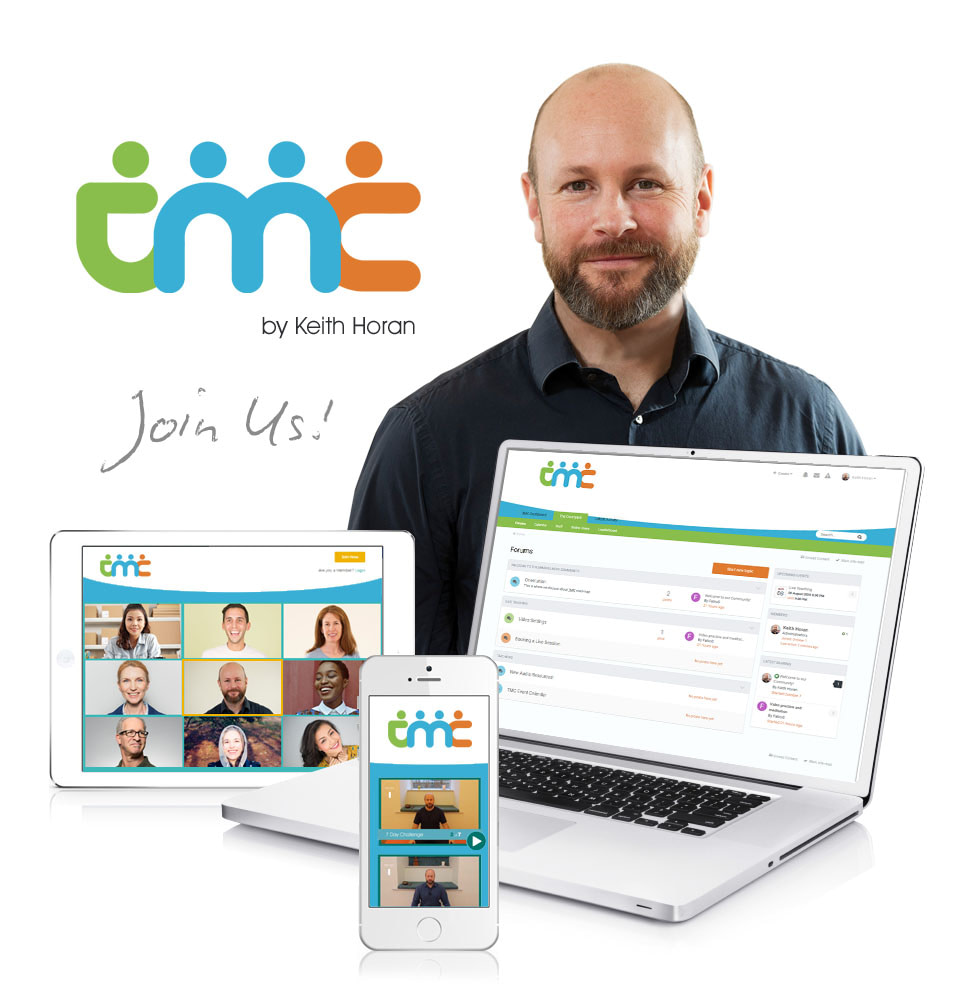 The Mindfulness Community
I've created The Mindfulness Community to support your practice every step of the way.
We all know…Mindfulness Practice has lots of amazing benefits…but to really keep a Practice going, a lot of support is needed.
TMC offers you the necessary Training, Guidance and the possibility to Connect with like-minded people!